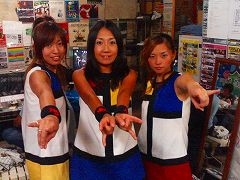 We left home early afternoon. Video crew of Kansai dot com rode in our van and interviewd us all the way to the venue. Talking with them, the time passed very quickly and we arrived to Star Club. Ther report will continue until the end of the show. I don't like myself at TV, video and magazines. I don't like my appearance.
I saw the sound check of today's head liner eastern youth then we did our sound check.
I'm happy because we have so many shows in this August. I can keep my motivation of live shift. Then it was our show time. We rocked at the packed venue. There is a platform in front of the stage at Star Club and we jumped up on it often during the show. Anyway, thank you for coming our show!!!
I sweat a lot. My hair got wet. I changed clothes and went to see the stage of eastern youth. I like the talking of Mr. Yoshino, vo & G. They play very hard but his talking is heartful. They covered our song Concrete animals at the encore. Every audience sang along their play. It was so fun. Thanks a lot!
After show, we did autograph session at merchant place. I like to talk with our fans. By the way, small size of T-shirt is more popular than large size recently. Is it a fashion trend? Small size sold out soon.
We clear up the equipments and drank beer and ate popcorn at the venue. I talked with the members of eastern youth, the opening band Water and staff. Then I went back to Osaka by car. I went to bed as soon as I arrived to my home.
photo: I don't know why my skin is so dark???