今日は短めの移動でした。
今日も中のカフェで食事♪
野菜クレープを注文。野菜たっぷり補給っ♪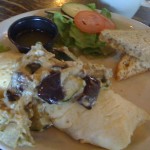 フクロウのビアサーバーが可愛い♪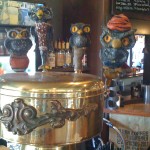 ライブはたくさんのお客さんが来てくれて盛り上がりました♪
熱気で汗だくになりました☆
ありがとう♪♪
Short drive today♪
We arrived at the venue earlier than the load in time,  so we walked around the city.
It's the 1st time for me to come to Kalamazoo!!
It's nice city, there are both beautiful scenery and modern buildings there
I ate a vegetable crape at a cafe in the venue.
I should take a lot of vegetables.
There is a beer server by which a lovely owl attached in the cafe.
Many people came to our show.
I sweated because of people's heat, and I was so excited!!
Love  Kalamazoo.